My Sex Life... Or How I Got Into An Argument aka Comment je me suis disputé... (ma vie sexuelle)
(1996)
Topless and white bra.
Chloé
(1996)
A couple of full frontal scenes.
Taxi
(1998)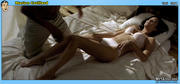 There's bush, breasts and a white bra.
Furia
(1999)
There's a love scene and a torture scene. And a white bra, of course.
Pretty Things aka Les jolies choses
(2001)
She lies back pretty disinterested as a man opens her robe to reveal her fabulous nude body before jumping aboard and having a ride on sexy Marion. He then roughly flips her over for some doggy style fucking before finishing. She didn't really enjoy it but for some reason didn't protest.
A Private Affair aka Une Affaire Privee
(2002)
She walks around her living room completely naked after having sex with her boyfriend on the couch. There are great looks at her breasts, pussy and ass in this long, candid scene. There are a few shots of dick too so look away when her boyfriend's crotch comes into view.
The Black Box aka La boîte noire
(2005)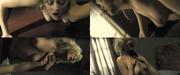 There are a few nice close-up views of her hanging boobs in this sex scene as she is fucked every which way by a lucky, lucky man.